Manage Groups on Your Site
Last modified: October 14, 2020
Add Groups
Platform admins and site admins can create groups. To create a new group on your site, go to User Management > Groups > + Add Group. Enter a group name and group description. If you want the group to be visible only on your site, check the Private Group checkbox. To add a group that another admin created, find the group in the groups table and select + Add in the On Site column.
Group Roles
Users can have both group roles and individual roles. They must have at least one role from either a group or individually to sign in to your site. If a user has both individual roles and group roles, their permissions are a sum of all their permissions. 

For example, if UserX has an individual role of contributor and a group role of consumer, then UserX has all the permissions of consumer and contributor on the site. To see a user's total permissions, go to Admin > User Management> Users. Select a user to see the user's detail page. The Permissions table displays their total permissions in the top row.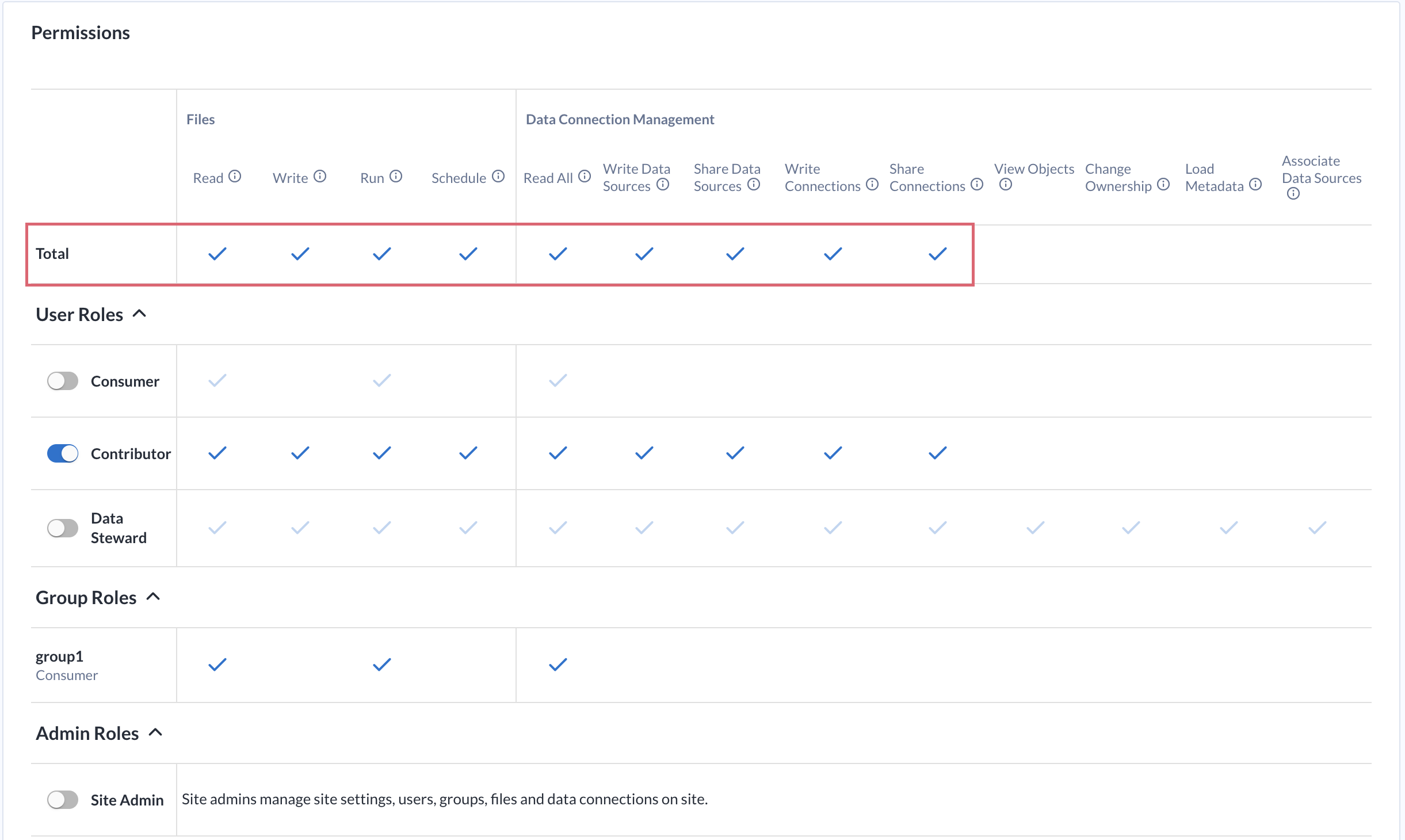 Manage Existing Groups
To manage group details such as name, description, permissions, and users, go to User Management > Groups. 
Name- Group names can have numbers and spaces, but no special characters.
Description- Describe the purpose or makeup of the group.
Directory- Indicates whether the group is local to the platform or synced with a directory.
Owner- Owner is the site that owns the group.
Permissions- Assign a group role to automatically add all members of a group to your site. 
Users- In the users table, check the box next to one or more members to remove from the group. Also, select a member name to go to their details page.
Delete groups with caution. Because a group can be on more than one site, deleting a group affects site, file, and data connection access for group members across all sites. To delete a group, go to User Management > Groups. Select the group you want to delete and go to the vertical ellipsis > Delete.