Share
Last modified: October 14, 2020
Confidently share workflows, schedules, and more. Analytics Hub makes it easy to share only what you want to share. Sharing provides granular, file-level permissions to files and assets on Alteryx Analytics Hub. Files can only be shared with other site members on your site and can't be shared across sites. To see all the files you have shared, and all of the files others have shared with you, go to Files > Shared with Me and Shared by Me.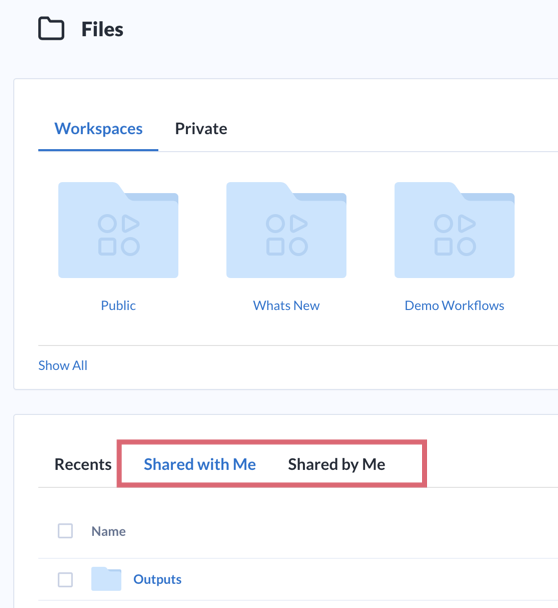 To share a file or folder with an individual or a group: 
Select Share if you're on a details page or on a table select the vertical ellipsis icon > Share. 
Select Add Members or Groups from the drop-down menu. Click out of the drop-down menu to collapse it.
Select permissions. Available Permissions are:

View - always selected by default
Create - permission to create files within your folder
Delete - permission to delete the file you're sharing. This includes the permission to delete files within a folder as well as deletion of the folder. This also includes the permission to delete a schedule if you have the ability to schedule on the site.
Download - permission to download the asset
Edit - permission to edit the file (for example, the name and description)

(Optional) Select Manage to turn on or off access to this file from folders above it in the file hierarchy.
(Optional) Check Advanced Settings. Advanced settings include:

Only owner can share— Only the owner of this file can share it when this setting is on. The file owner and site admin have this option.
Only site admin can share—Site admins can set this option.
Remove access from others—Remove access from everyone.

Select Done.
Remove Access
To change sharing permissions or remove access to an asset from another user, go to Share > Advanced Settings > Remove access from others. Only the user who shared, owner, or site admin can edit or remove permissions.