What's New in Connect 2020.2
Last modified: September 28, 2020
Find out what new features, improvements, and bug fixes we released with this version of Connect! The 2020.2 release brings several new features such as new Admin Menu or Active Directory integration. 
New Features and Enhancements
New Admin Menu
The new Admin Menu has been reorganized and simplified. You can now find sections such as Security, Performance, Maintenance, and Export and Import.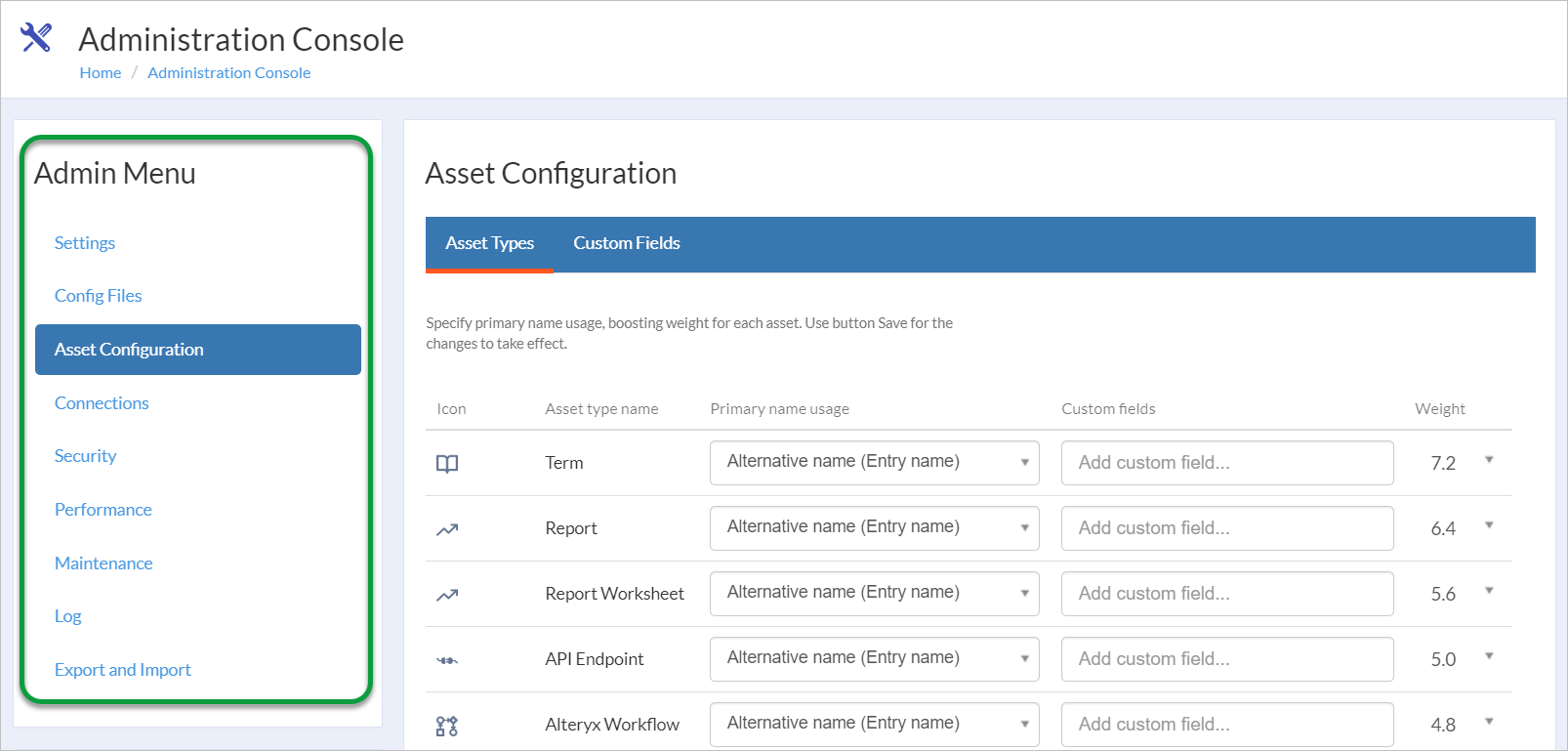 Active Directory Integration
You can now use Connect to enable administrators to pre-load all users and groups from their Active Directory (AD) into Alteryx Connect. To load users and groups from the Active Directory, go to Administration > Settings > Single Sign-On, and select the +ADD button. To open the dialog for adding a new AD connection, select Active Directory and fill in all of the mandatory fields. To harvest users from the Active Directory, select the icon next to the created line with the AD connection.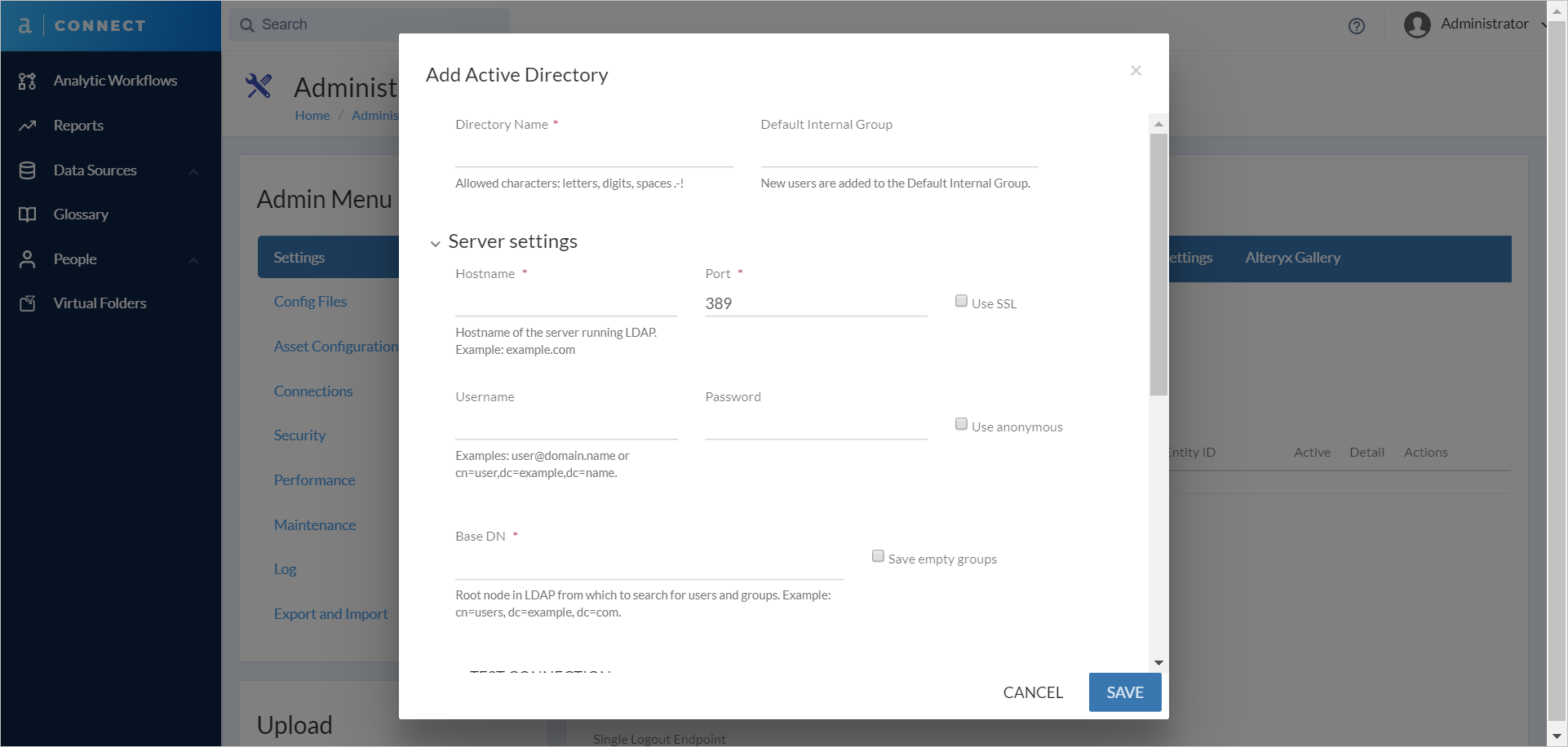 Disable Export from Connect
Administrators now have the ability to disable all Connect export tools and options. To disable export, go to Administration > Security > User Settings and select the Disable Export for All Users checkbox. Administrators will still be able to export.
Manage Duplicate Workflows Coming from AYX Gallery
You are now able to load workflows with duplicate names from the AYX Gallery. After you finish loading analytic workflows using the Alteryx Loader in Designer, go back to Connect and select Analytic Workflows to see even workflows with duplicate names.
Google BigQuery Loader
Connect now supports loading metadata from Google BigQuery. You now have increased speed of loading, especially on larger datasets. The new BigQuery Loader can be executed and tested for the previous release of Connect (2020.1). Use the loader package for your existing Connect instance.
PostgreSQL Support instead of H2
With Connect 20.2, you can now switch to custom PostgreSQL. For more information, see How to Deploy Alteryx Connect on PostgreSQL Database. By default, Connect is using the embedded H2 database.
Email Notifications Subject Prefix
Administrators are now able to specify a subject prefix for all emails sent from Connect. You can set your email rules based on such prefix.
Show Only Direct Children Switch
When creating a folder, you can now select whether to show all children assets recursively from all subfolders (default), or only the direct children of the given folder. To refine your selection, use the Show only direct children switch.
Additional Enhancements
Set SSL Certificate for Longer Period: The SSL certificate is valid by default for 1825 days. To change this value, update the Validity Period (days) parameter during the installation.
AYX Loader: Endpoint pagination of schedules has been implemented.
PowerBI Loader: The loader is now able to load all available datasets regardless the API throttling limit.
S3 Loader: Optional parameter for the s3 region endpoint has been added.
Salesforce Loader: Asset Column Identity has been implemented.
Tableau Loader: Owners for Tableau Projects are loaded into Connect.
Tableau Loader Performance Improvements: Improved metadata for loading performance from large Tableau instances, to include faster load time.
Packaging of Python Modules: The packaging of Python modules in relevant loaders has been switched to CONDA packages.
SSL: We have now implemented SSL support for all loaders.
Visit Alteryx Help and Documentation to access all Alteryx documentation and release notes.