Settings on Your Site
Last modified: February 10, 2021
This article describes the general settings available at the Site level. To interact with these settings, sign in as a Site Admin and select Admin from the profile drop-down menu.
Run Priority
As Site Admin, you can set the default run priority for workflows, schedules, and metadata loaders. Users can choose a different priority at the individual workflow and schedule level.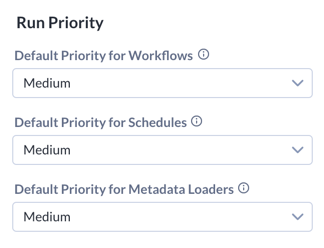 Run Mode
To see what Run Mode is set for the platform, go to Admin > Settings > Run Mode. Run Modes are:
Unrestricted—Workflows run regardless of the tools or locations of the files they access. 
Semi-Restricted—Workflows will fail if they access files and folders outside of the Analytics Hub file system.
Restricted—Workflows that contain specific tools or data connectors or access files outside of the Analytics Hub file system won't run. 
For Restricted and Semi-Restricted run modes, users can request run mode exceptions on a per workflow basis. To set Run Mode on a workflow, go to the workflow's details page > vertical ellipsis icon > Versions > Run Mode. 
Sharing Settings
You can restrict asset sharing so that only file owners can share. Platform Admins also have this setting available at the Platform level. If your Platform Admin turns on the setting, you can't override it at the site level. To restrict sharing to file owners, go to Admin > Settings > General. Check the box Only owners can share their assets.
Files
By default workflow logs are saved in Files > System Folders >Workflow Logs. If you change the default location, remember to give users folder permission to view the logs. To view logs for a specific workflow, go to Jobs > Results on your site. Select a vertical ellipsis icon > View Logs.
Data Preview for Data Catalog
With this setting, you can let users preview a sample of data in a file or data connection. Only users who have permission to use the related data source and connection can see the preview data. To allow data preview, select the checkbox option Show sample data from loaded databases in data catalog tables and views.

To see Sample Data, go to Data Catalog and drill down to a table. Select the Sample Data tab. You can also select a data file (for example, XLSX, CSV, YXDB) in Files, then select Sample Data.
File Upload Restrictions
Platform admins set File Upload Restrictions at the platform level. As Site Admin, you can further restrict file uploads. Restrictions apply to all future files uploaded to Analytics Hub. Restrictions don't apply to output files. To see files on your site that don't match current restrictions, select Check Files.
Maximum Allowed File Size shows you the max that the Platform Admin has set. You can enter a smaller size for your site. Leaving this setting blank is only possible if the Platform Admin has also left it blank.