Files on Your Site
Last modified: May 17, 2021
This article describes the makeup of the Files page for Site Admins.
System Folders
As Site Admin you can access system folders.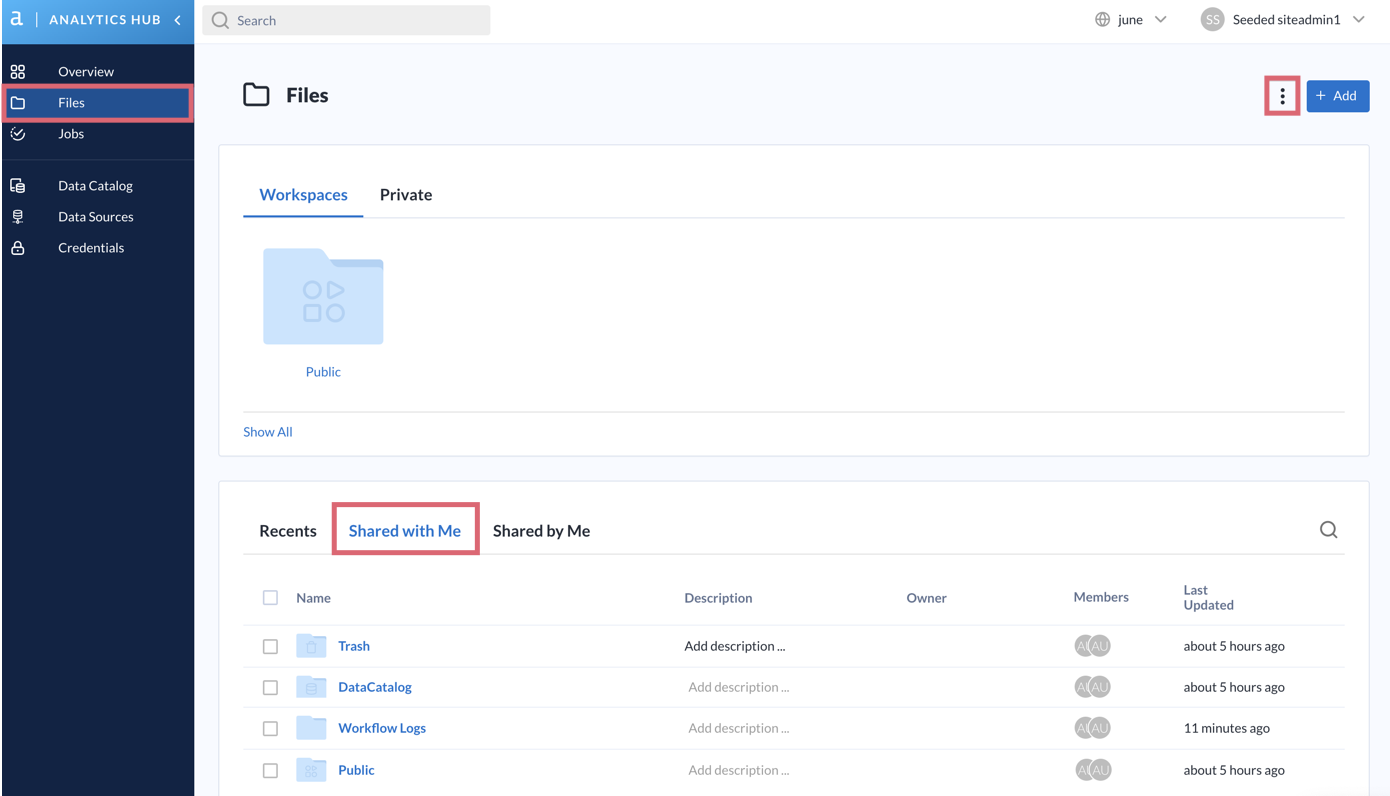 Go to Files > vertical ellipsis icon > View System Folders to access the following folders:

Data Catalog
This is the same folder that's linked in the main navigation menu.
Access all tables and metadata available in the Data Catalog for all configured Data Sources on your site. 
Other users have access, but you share the responsibility of managing the Data Catalog, Data Sources and Credentials with a Data Steward. 
Loaders
Access and run any of the metadata loaders on the Alteryx Analytics Hub for your site. Share the responsibility of running the metadata loaders to populate the Data Catalog with a Data Steward. 
Users
The Users folder contains privately owned folders by each site member who has logged in. 
Access any user's assets, which is important for reassigning the assets owned by users who have been removed from a site or Analytics Hub. When a user gets removed from a site or the user ID is deleted, the file assets remain but have to be assigned to another user on that site.
Workflow Logs
By default, the workflow logs are stored in this system folder.
To change the location for these logs, go to Admin > Settings > General > Files > Workflow Log Location.
Workspaces
Workspaces are locations that are intended to be public to the site. 
As a Site Admin, you can add workspaces for all site members to use for collaboration. 
By default, the Public Workspace can be seen and used by all members of the site. 
Creating Workspaces is a capability that is unique to the Site Admin role.
Manage Workspaces
As Site Admin, you can add workspaces for all site members to use for collaboration. A workspace is a folder created and managed by site admins. This is an easy way to help your site members share and stay organized. 



To add a new workspace, go to Files > + Add > New Workspace. Enter a Workspace Name and Description and Save. To share the workspace and set permissions, go to the workspace's details and select Share. Share the workspace with individuals or groups. Available permissions to give are Create, Delete, Download, and Edit. Only site admins can share workspaces.