Last modified: July 08, 2021
When running your workflows, you might have wondered what's under the hood providing the functionality. This article will give you an overview of the Alteryx Engine and the new Alteryx Multi-threaded Processing (AMP).
What's Alteryx Engine
Alteryx Engine is an operator which processes each record of the workflow and utilizes the machine's core(s) and the machine's RAM (memory) when a workflow is run.
What's AMP
The Alteryx Multi-threaded Processing (AMP) is a new architecture of Alteryx engine. As the name implies, AMP is a multi-threaded concept of processing your data in parallel packets. In contrast, the original engine architecture processes your data record-by-record and sequentially when running the workflow.
Why use AMP
AMP is designed to work with larger volumes of data at higher velocity and typically executes workflows more quickly, with efficient usage of machine resources.
Availability
The AMP engine is available from Designer version 20.2.
Requirements
The AMP engine must have at least 400 MB to process one thread of a workflow.
For example, with 8 threads, there must be at least 3.2 GB of memory available to AMP at runtime.
If there are only 2.5 GB available at runtime, AMP will use 6 threads to satisfy the 400 MB minimum.

Memory Limit setting values should be aligned with the thread utilization. To learn more about AMP memory use, see: AMP Memory Use.
Should I use it?
As said above, AMP can greatly increase the processing speed of your data. Using AMP may, however, have limitations in available memory and tools usage. You can decide based on the following steps:
Run an existing workflow a few times in the original Engine, then run the workflow a few times with the AMP Engine.
Compare the Results Pane (messages, warnings, errors, duration of the run) as well as any resulting data to check for differences. 
To identify whether a workflow ran with the AMP Engine, check the results pane for a message stating "This is AMP; running [N] worker threads"

How to Switch on AMP
The default setting for all existing and new workflows is with the original engine. To use AMP, you must enable AMP by selecting Use AMP Engine checkbox.
Navigate through the following steps to switch between the original and AMP engines.
Select a point on the white space of the canvas to display the Workflow - Configuration pane.
Navigate to the Workflow - Configuration pane and select the Runtime tab.
Select the Use AMP Engine checkbox to enable Alteryx Multi-threaded Processing.
Run the workflow.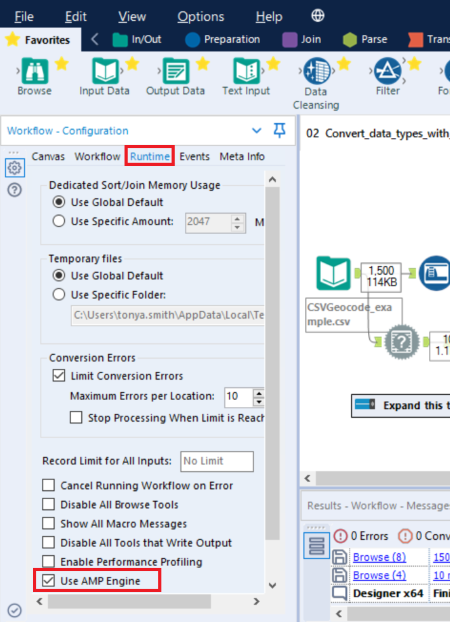 Learn more about AMP
This is just a quick overview of the Alteryx Engine and AMP. If you want to learn more, check out next articles:
Alteryx Engine and AMP: Main Differences
AMP Memory Use