Links
Last modified: May 17, 2021
On the Links page of the Gallery Admin interface, you can add a link to Gallery pages or an external webpage. After you create a page, add a link to the page in the Gallery header. Links are visible to all users.
For example, on the Alteryx Public Gallery (https://gallery.alteryx.com/), several of the links in the link menu are Gallery pages including:
To manage links, select Links on the Admin toolbar.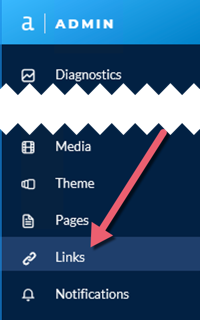 Add a Link
Add new links on the Links page, in the Header section. As of version 2019.4, you can only add links to the header.
In the Page dropdown, select a Gallery page to link to. Select None (external link) to link to an external webpage.
If you selected None (external link) in the Page dropdown, enter a webpage URL in the URL field. 
In the Title field, enter the link text you want to display to Gallery users.
Select Add New Link.
Users can select the link icon in the top-right of the header to access links.

Delete a Link
To delete a link, select the trash icon next to the link on the Links page.