Confirm Your Email Address
Last modified: November 29, 2022
Depending on how your Server admin has configured your Server, when you register for an Alteryx Server account it might require that you confirm your email. If you see a warning icon in the Server UI toolbar, you need to confirm your email.
There are 2 options to verify your email. 
Option 1: Select the Link in the Email
Select the link in the email to confirm your email address.
Option 2: Use the Confirmation Code from the Email to Confirm in Server UI
The second option is to select the warning icon that displays in the toolbar and then select I have my code.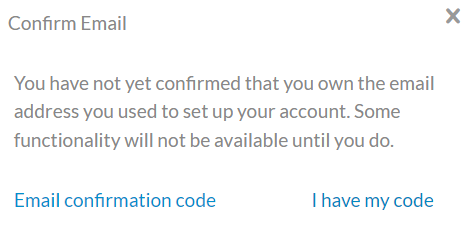 You can then enter the code from your confirmation email in the Confirmation Code field to confirm your email.

Resend the Confirmation Email
To resend the confirmation email, select the warning icon in the toolbar in the Server UI and then select Email confirmation code.