Discover helps you to:
Understand the changes in your key business measures without effort

Explore what's driving these changes instantly

Uncover unexpected changes by viewing anomalies and outliers
Changing Your Key Measure 
Choose which measure you want to discover first and Auto Insights will highlight it in purple.
Understand Performance 
To do so, simply select See Overview. Auto Insights highlights the latest month-on-month change in purple. You can drag the time scale slider underneath the graph to see the trend over a longer time period to identify peaks and troughs. You can toggle to see the same period Previous Year by clicking on the selection VS PREV YEAR within the navigation bar.
The purple section represents the latest period's performance. You can choose which period you want to analyze by using the navigation bar at the top. This will allow you to focus on a specific period you wish to analyze or change the time granularity.
Our standard default week commences on a Sunday, if that's not how your organisation's reporting is like, you have the flexibility to amend it. Read here for more information.
Understand What Caused This
Easily explore and understand the contributing factors of change for each measure.
To learn more about What Caused This methodology and explanation, refer to this article.
To focus your analysis on a specific breakdown, i.e. I want to understand the contributing factors that caused the 'Grocery' department to decrease in sales, you can click on the 3 dots on the right to drill down.
Alternatively, if you want to compare across all loyalty groups as an example, you can click on Drill down to get that comparison.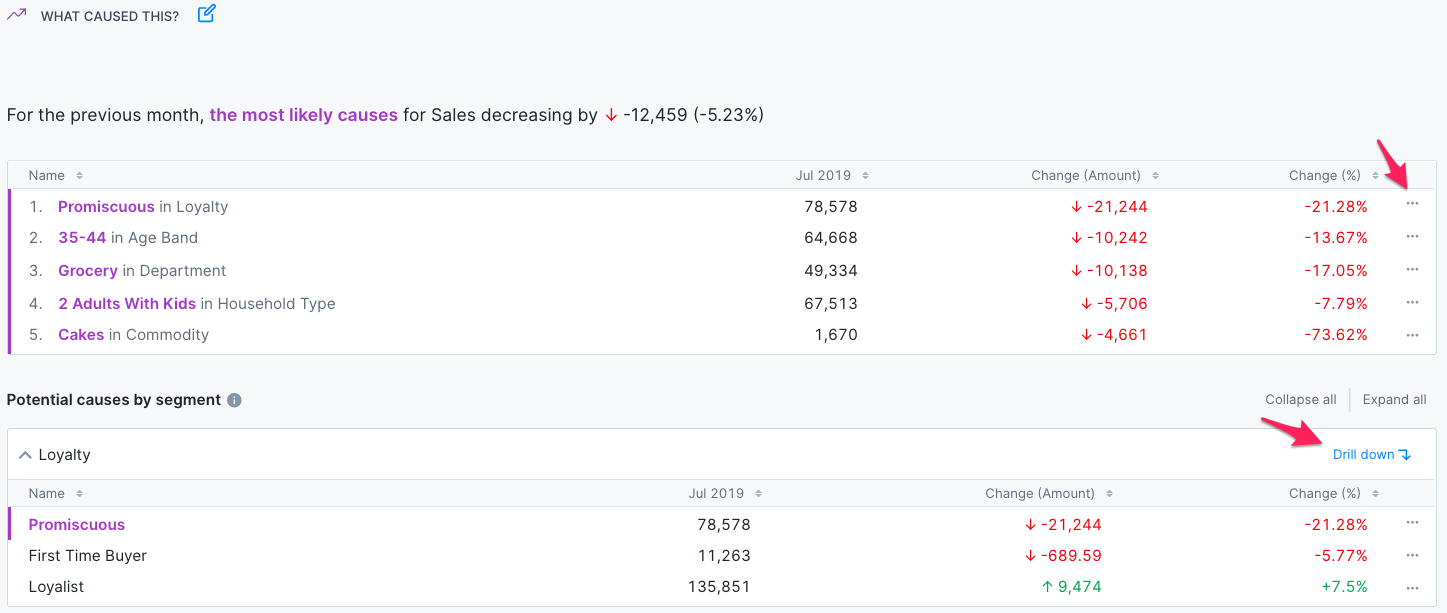 Find Unexpected Changes
Find out about unexpected changes by viewing anomalies and outliers for the latest period. Unexpected Changes are only generated for the latest period in Discover across all measures and segments.
Delve deeper to understand what caused them by selecting the blue 'What Caused This?' button.
For Outliers, since there's a historical trend, you can select a specific period you want to analyze further within the chart without changing the time period within Discover.
For Anomalies, Auto Insights compares the selected time period against the previous period. Select each dot to analyze its contributing factors further.
For each measure, you can filter the unexpected changes cards across each segment and sort them by either the largest change amount, the largest absolute value, or the largest change percentage.
Read more on the methodology of both anomalies and outliers here.
Related Articles