Quick Guide to Find and Create Insights
Last modified: January 27, 2023
Welcome to Auto Insights. To help you get started, check out the video below for a quick tour.
Upload Data in Auto Insights
You must be an admin to upload datasets. You can upload datasets in Designer with the Auto Insights Uploader tool or directly in Auto Insights via database connection or CSV file upload. 
Dataset Requirements
Must be transactional or time-series data with at least 1 field configured as a date or datetime data type.
Field names must begin with a letter and contain 5 words or less.
Have at least 1 numeric field to create a measure in Auto Insights.
Have at least 1 string field to filter and break down.
Remove unsupported data types—blob and spatial.
Maximum file size—2 GB.
For the database, the max recommended limit for the table is 10 GB.
For more information on how to prepare and upload your data, see Data Preparation and Upload Dataset articles.
The Navigation Bar

From the navigation bar, you can access all key features within Auto Insights.
Missions—The best place to find, create, and subscribe to insights on particular areas and items within the dataset.

Search—Search to find items in the data.

Datasets—View your dataset library and switch between datasets.

Discover—An executive summary of the entire dataset, created automatically by Auto Insights.

Help Center—Easy access to all help resources. 


Profile—Access Account Settings, Users, Admin pages if you're an admin, and more. 

Missions
The Missions page is the best place to find and create in-depth insights about any areas within your dataset.

On your Missions Home Screen, you can view all the Missions you have access to. Search a Mission by name or filter the list of Missions by datasets used in the Mission.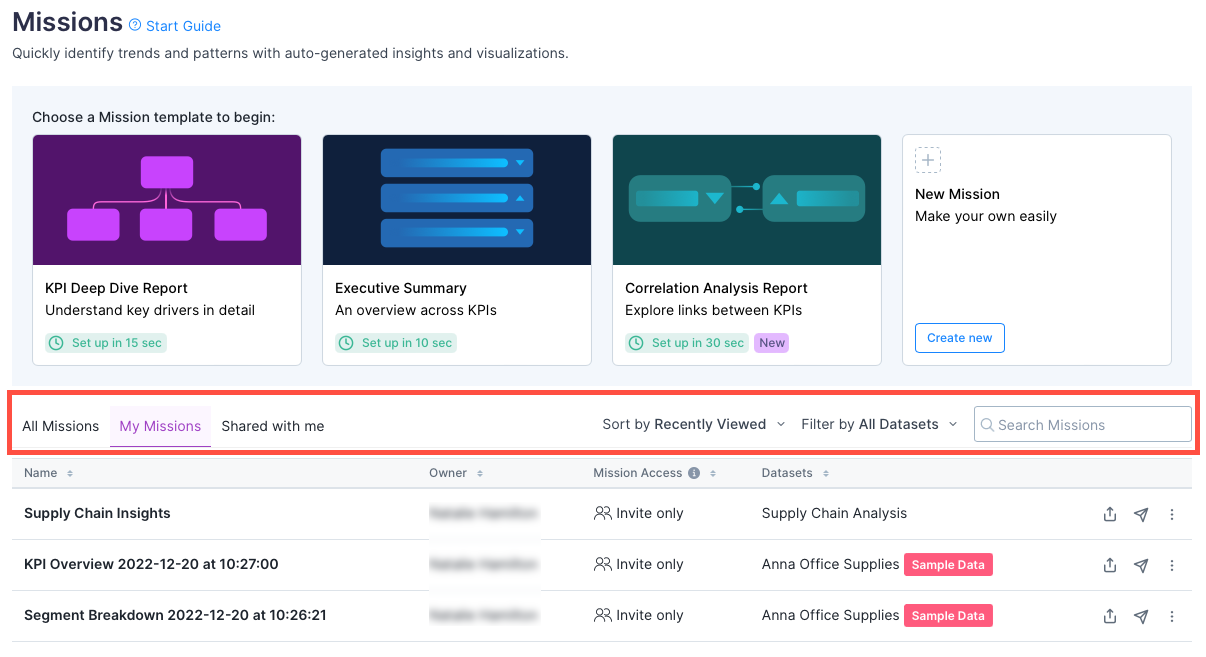 Also, you can save, collaborate, and subscribe to monitor these on an ongoing basis.
Create a Mission
To create a Mission, go to the Missions page.

Select 1 of the template options: KPI Deep Dive Report, Executive Summary, Correlation Analysis, or New Mission. See the Create Missions article for more details. 
Add, Edit, and Delete Pages in Mission in Edit Mode
To enter edit mode, select Edit. 
Here you can add, duplicate, edit and remove pages. See the Edit Missions article for more details. 
Query Bar

You can change the comparison period to compare against the previous month or the same month last year. Refer to this article on Time Period comparison for details.

Want to know how to make an impact with your first mission?
We have a separate article that covers how to create a best-in-class Mission report guide as a start.
Discover
Understand the changes in your key business measures without effort.

Explore what's driving these changes instantly.

Uncover unexpected changes by viewing anomalies and outliers.
Switch Between Measures
On the Discover page, select the Measure you want Auto Insights to focus on. Read more about Measures.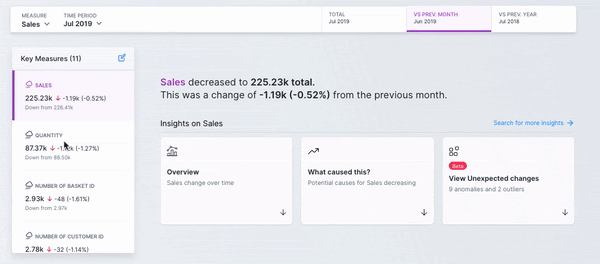 Trend Over Time
Scroll down or select Overview. Auto Insights highlights the latest month-on-month change in purple. Drag the time scale slider underneath the graph to see the trend over a longer time period to identify peaks and troughs.
Changing Dates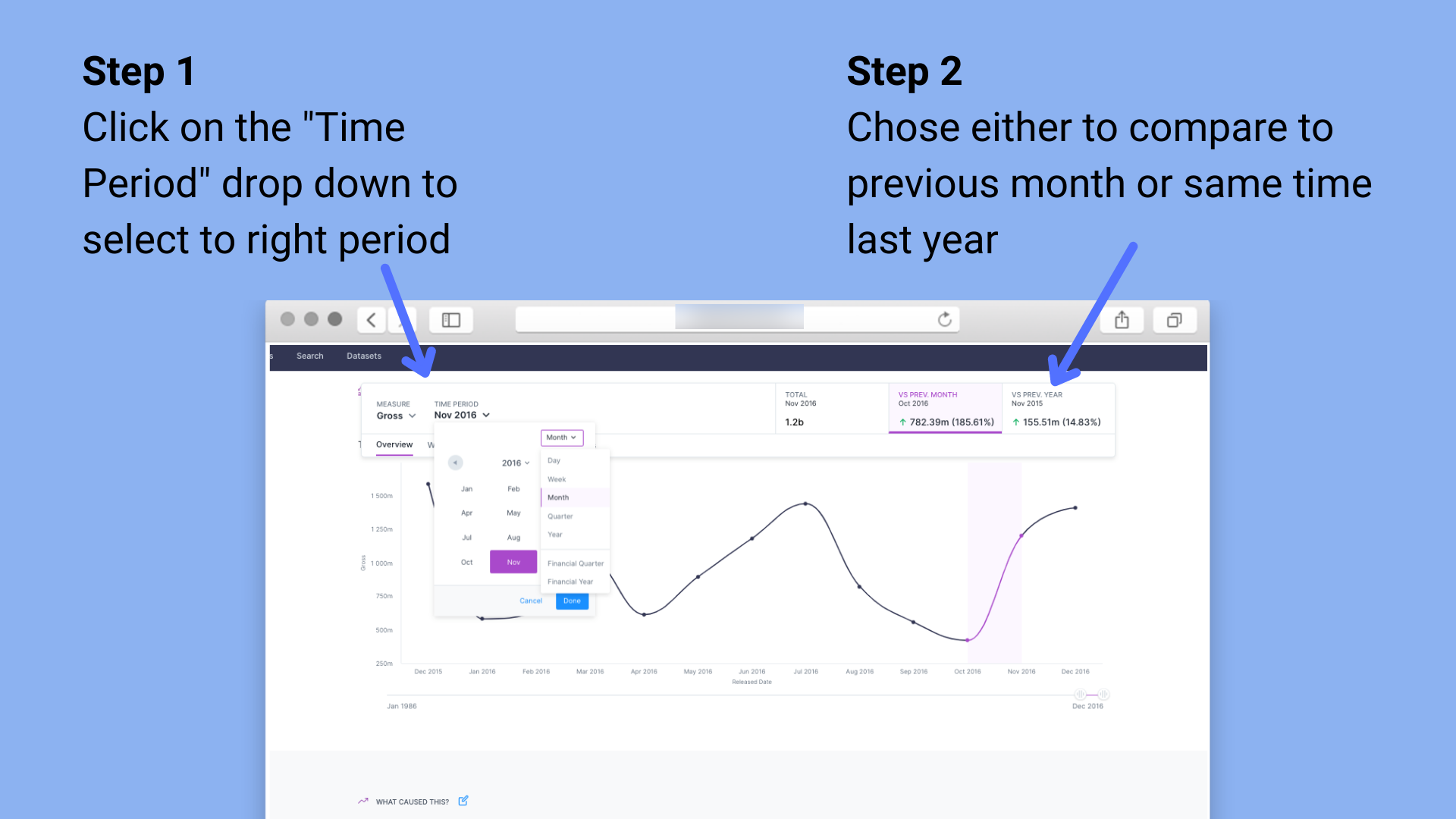 Our standard default week commences on a Sunday. If that's not how your organization's reporting is, you have the flexibility to amend it. Read here for more information.
What Caused This
Easily explore and understand the contributing factors of change for each measure. To learn more about What Caused This methodology and explanation, refer to this article. To focus your analysis on a specific breakdown, select the ellipsis on the right to view trends over time. If you want to compare across all, select Drill down to get that comparison.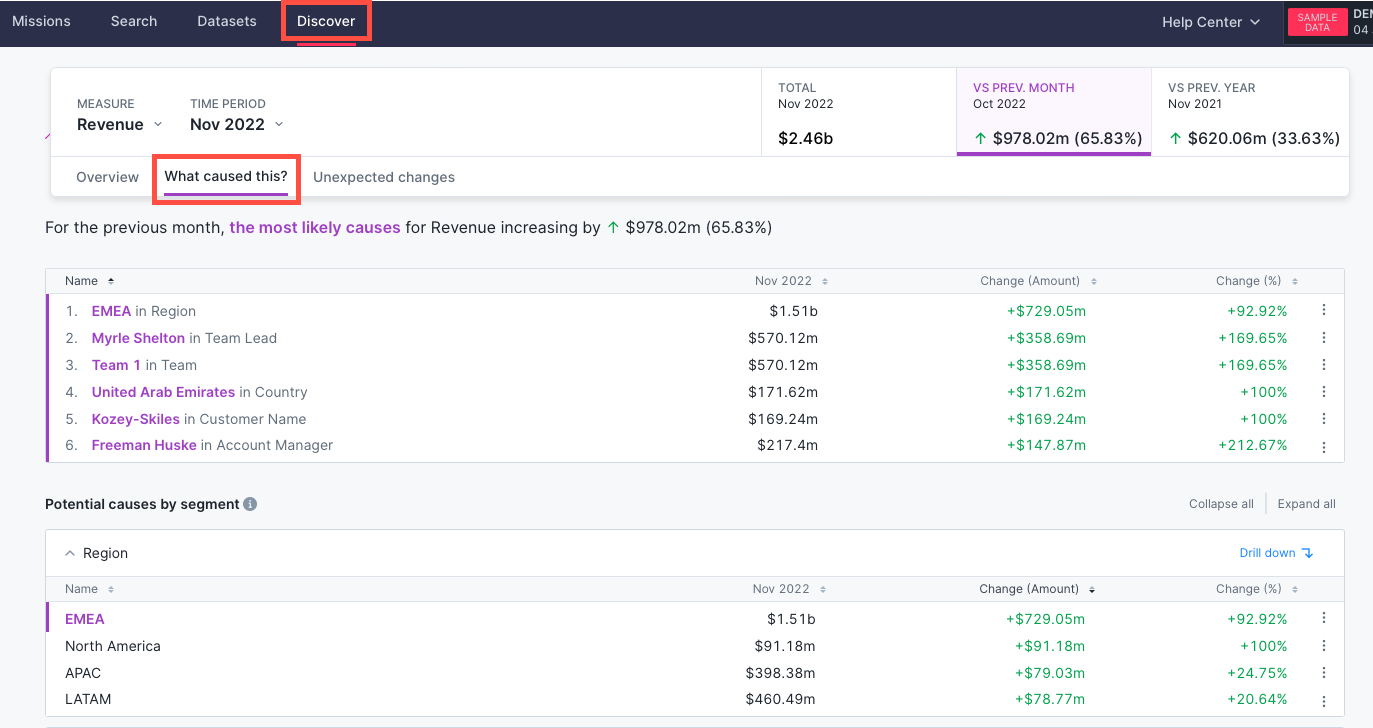 Unexpected Changes
Find out about unexpected changes by viewing anomalies and outliers for the latest period. Unexpected Changes are only generated for the latest period in Discover across all measures and segments.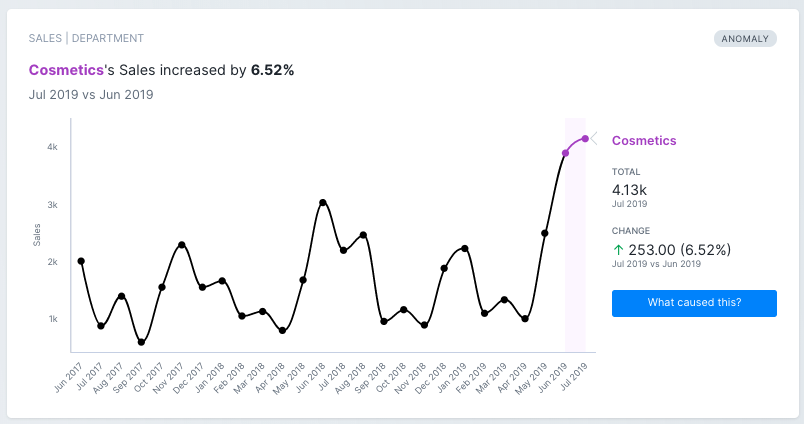 Read more on the methodology of both anomalies and outliers here.
Read more about Discover.
Related Articles